It is time for happy changes, it is time for joy. The world is not what it used to be, but we all have to adapt. We are striving to create happiness for ourselves and for those around us – in our homes we are decorating and enjoying how happy changes help turn a bad day into a cheerful and positive one. Colors adorn the walls, just as furniture and textiles create space for presence and togetherness.
Spring and summer are here to spread happy changes wherever possible.

Memorable COZY LIVING
Homes are becoming more personal as we embrace optimism and enjoy travelling again. Let's celebrate life and value objects that have been carefully collected from around the world. Every piece is curated and eclectic. The green color in various shades is characteristic of this season – it is beautifully combined with mineral colors in warm shades, such as beige, coral, and burnt orange.
A BAG FULL OF MEMORIES FROM THE WORLD'S DESTINATIONS
Store bits and pieces in a beautifully braided bag or in classic cabinets. Inspiring journeys fill us with impressions, ideas, and joy from all the beautiful places we visit in the world – those memories are to be kept in the heart.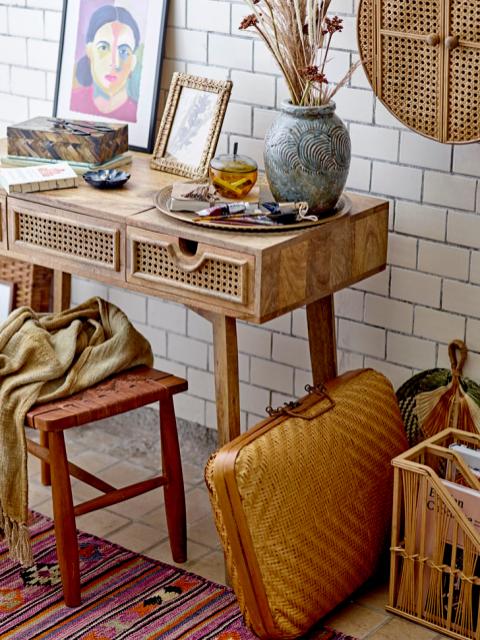 THE PERFECT MIX
Create oases with flowerpots in different sizes, materials, and expressions. Plants are healthy for the mind and bring life and calm to the room. Spice it up with whimsical and unique pieces to discover how it adds personality and character to the home.
Everything is allowed when it comes to decorating – mix and match glazes, patterns, and colors to achieve a personal expression.
IT'S ALL IN THE DETAIL – AND THE PRACTICALITY
Cozy and distinctive jars for storage ensure practicality in the kitchen, while at the same time creating personality and the right homely feeling. Stoneware, wicker, and wood in warm earthy tones underline the southern atmosphere.
The kitchen is for many families a central place to meet and be together. We strive for decorating the room with beautiful and usable kitchen interior, for creating an inspiring and cozy feeling.
Welcome outside
The Bloomingville OUTDOOR collection inspires us to create an atmospheric environment outside and allows us to meet family and friends in beautiful surroundings. Create a sanctuary and feel the warmth of the sun.
​'I move my garden furniture indoors through the winter. That way I protect them from the wear and tear of the weather and at the same time I get the opportunity to enjoy them on a rainy day. A win win situation, I think'.
- The everyday designer
SPRING SUMMER 2023
Find inspiration for a balanced everyday life where you feel at home with interior design from the newest Bloomingville collection.